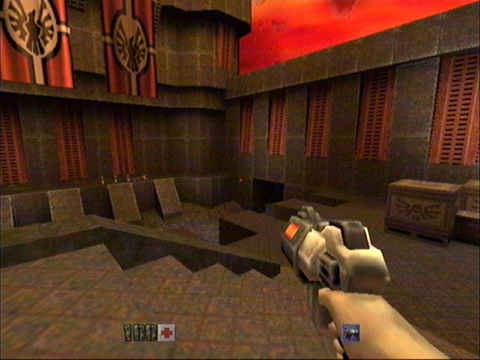 For our purposes, I harken back to the good old days of the second commuter we ever bought at the Sorg household. We were so happy with our IBM Aptiva C66 from Radio Shack. An epic Pentium 166 powerhouse with ATI 3D Rage and a massive 2 GB hard drive. The first thing I usually do is load piles of old games that stuff my hard drive from the last machine. I had so much elbow room!
Then along came a game called Quake 2. It was the latest and greatest gaming. Scripted event. Smoother online play. It was amazing.
And it weighed in at almost 500 GB. A quarter of my hard drive.
I had a similar experience lately. As most know, I'm a bit of an enthusiast for the recent crop of Apple devices with my iPhone 3GS and most recent iPad introduction. I am more than happy with I'd Software's offerings on this platform and it's part of e reason our Nintendo DS collects dust and my Xbox, when it's not red ringing, only serves up Netflix and Rock Band these days.
So I was excited to grab Rage HD. It was $1.99 for the HD version and I pounced on it. It worked just fine on my 3GS. It just weighed in at 1.2 GB if my 16 GB model. From a guy who is used to having pages and folders of games and apps on his phone, this was a shocker. I even had problems updating it from lack of space.
Once again, gaming pushes the hardware. And I'm back to that feeling of awesomeness packed into my shrinking space.