This was a HUGE year.  Last  year, I was into building the groundwork for what I hoped to be a move away from unhappy and employed.  This year, things were put even further into motion, growing, and I couldn't be happier.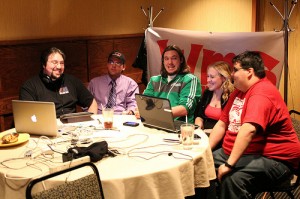 5 Year Anniversary
5 Years of Tuesday nights.  Crazy.  We celebrated the milestone in January at the fine Sharp Edge on Penn Ave downtown Pittsburgh.  We opened with a live AwesomeCast and into the show.  We had a great group of friends and past show guests such as Joe Dombrowski, Chest Flexor, Jimmie Demarco, and Michael Facade who all braved a blizzard that kept half of our RSVPs away, sadly.  What a great way to start the year!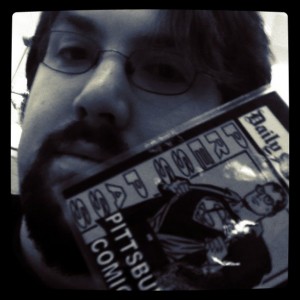 Hitting the Cons
The idea came up alongside Mulango of Mangtoons to get our faces out there to the people for our respective projects.  We both shared a booth for the Pittsburgh Comicon and Baltimore Comic Con.  I discovered how many wrestling fans attend these events and learned a great deal about what to do to hopefully make ourselves more visible in the future attempts at these events.
We also worked on bringing a little bit of the events' flavor to the network.  Dan Greenwald of the fantastic Comic Book Pitt helped us out in Pittsburgh to see who to talk to about the Con and Pittsburgh independent comic book scene.  I went solo in Baltimore and talked to an illustrator for Doctor Who comics, some other podcasters, and other stuff that caught my interest.  For New York Comic Con, Chachi and I got press passes and rolled around the floor for four days talking with producers at South Park Studios, some of the minds behind the Voltron relaunch, Ubi Soft for the upcoming Shoot Many Robots, a private preview of Max Payne 3, and so much more.
So this year, we hope to do a similar circuit, bring more of a crew, better equipment, and better planning.
Some new beginnings
Theere was a lot of new stuff being pumped out this year.  We started the year with Chachi Plays for Kids, which raised about $3000 for Make Room for Kids and went on to receive a proclamation from the City of Pittsburgh.  We launched Unsung with the Pittsburgh Foundation to showcase the non-profits and charities in the area, my client in S'eclairer finally launched the Chatterbox, a roundtable podcast to talk about everything going on there, and Build a Baked Good as a vehicle to promote Cafe Solstice.
Another start, then stop, was Freelance 4 Real.  I felt that the stuff Justin Kownacki does on his blog was tremendous, and personally needed an ear to talk freelancing since I dove in head first myself.  We had a tremendous run of shows with lots of friends and acquaintances to hit different sides of the freelancing landscape.  Maybe in 2011, we'll see a resurrection of this concept.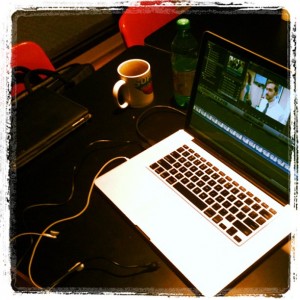 And of course it was the end of April that I completely cut the reigns of my day job, working solely for myself with clients.  It was a scary time, and I'm still building out my work from it.  I'm not making as much, and spend way more time, but I havent' felt more happy with everything than I do now.
Great Guests
We had another year of talking to some great people.  We had a talk with Dave Lagana, who started a social media revolution with IWantWrestling.com, Johnny Gargano, fresh off of his trip wrestling in Japan during the devastating earthquake, started a series on wrestling comic books, the maker of the US Championship and current TNA championship, and so many many of our usual friends on Wrestling Mayhem Show.  AwesomeCast saw talks with more local start ups like NoWait and GenevaMars, more local OG media folk like Mikey, Jim Lokay, and Uncle Crappy representing radio, TV, and newspaper respectively, Cynthia Closkey shared her experience at NeXT Computers in the wake of the passing of Steve Jobs, the guys from Seattle's Technothusiasts joined us.  Freelance 4 Real was made on the guests from social media, acting, and programming giving their take.  Chatterbox has already had a great run of experts in Pet Loss, Universal Healthcare, Yoga, Reiki, and a host of other life topics.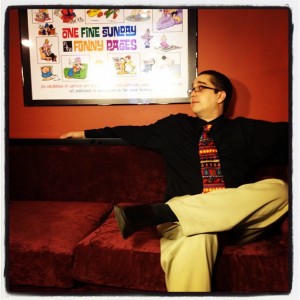 Some Upgrades
Chachi joined on board as my "CTO" and has been tremendous in helping make this dream a reality and sort of feel like a real business.  We upgraded some tech throughout the year, including a HD camera, a couple of video switchers, and other random gadgets to make our job easier and expand what we're going to be able to do for clients in the next year.
Aside from the shows for clients mentioned above, we did some work for the local Democratic group, Science Journal, Digital Horizons, and of course even more work for Pennfuture.  It was a great year, and we have so many plans for growing in the new year.
I couldn't have done a lot of this stuff without the support from people like Chachi, Rob, Mulango, my understanding wife, the Mayhem Crew, the great clients that let me deliver their message, and everyone else around that's inspired me and helped solved problems in the last year.