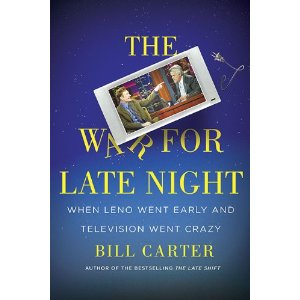 I've always saw the Tonight Show as one of those staple shows growing up. Carson raised my sense of humor, and I felt his leaving as one of those now rare moments in television. Since, it seems that show has been an oft battled for throne.
War for Late Night is another recommendation from TWIT's long sustained Audible ads (affiliate link), which have fueled my wish list in that service fir some time now. I normally wouldn't have delved into a book like this without a recommendation. What I found was a look at how truly screwed up the waning network television business really is. We discuss at great length at how much the content providers don't "get it" when it comes to the battle of cable vs the Internet. It's likely worse than thought if the history of this book holds true.
The book bounces back and forth in the timeline of late night in the last twenty years. First at thus up fronts featuring Jay Leno bombing at stand up heading into his 10 pm show. We get the story of elements of this plan being laid out five years earlier when NBC feared losing Conan and attempted to design a plan to keep both in the fold. Surprisingly, this book actually steps back and profiles anyone who's mattered in the late night space in the last decade. Letterman, Ferguson, and Kimmel are all there, but so were Stewart and Colbert. Though with the final result of Conan ending up on cable, I shouldn't be surprised.
In the midst of all of the motivations and conversations between execs, talent, and their representatives, there are also rumblings of the resistance of the "old ways and tradition" of something like the Tonight show as cable honchos and the pending Comcast merger are on the horizon.  Conan is portrayed as the loyal employee, and a tiny bit neurotic, as most talents are.  Jay is portrayed as all business, which is why he's successful, and partially betrayed by NBC to begin with.  We get incite into reactions and history of Letterman, Kimmel (including his Leno impression and shanghai'ing Leno on his own show), and more late night history than I ever wanted to know.  The audiobook from Audible was very well read, and kept me into it for all 14+ hours of the book.
If your Team Conan, you'll enjoy this one, for sure.  I grew up on Carson and waned on Leno, and this was a great backstory for the last 20 years of that space!