On a personal note.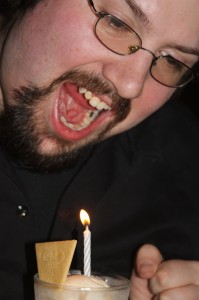 Well.  Friday was my birthday.  Number 30.  The big Three OH!  I wasn't particularly "holy crap I'm old" but more "holy crap where'd those ten years go".
It was also one of those things where I've had my head down doing so many things in this last week, and looking toward what needed done in the near future (holy crap there's a lot) that when I finally rolled right into our reservations at Bravo (First time.  Last time) I'm disarmed by seeing my mother, brother, sister, nephew, Chachi(my other brother), Veronica, and surprisingly, a coworker in Mulango, at a table.  Seeing them playing with my crayons on the paper table clothe at the other end of the table was something to see.  (oh.  and there's pictures)
This, and the utter blast at hitting up some bowling at Dormont Lanes, and some Tom's Dudder joined by Dudders and da Ginga was a great way to top it off.
Then, over lunch, I was passed my iPad with this video ready to play.
This 17 year old kid lives in Corpus Christi, TX, and joins me just about every week via Skype to talk about wrestling on Tuesday nights and plays Quake Live with us on occasion. That he got all of my friends here in Pittsburgh, and one in the Bronx, to contribute to some thing like this without me catching wind of it was tremendous. </tear>
Forget all of your leads and followers and likes.  This is when you know you're doing social media right when distance