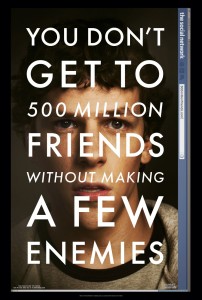 Thursday evening, I got the opportunity to catch a free screening of The Social Network. A movie that intrigued me thanks to my interests in all things Podcampy.  So I set out with my favorite trio of wife and Chachi to get our cinema on.
One of the first surprises was, of all things, the music.  I started catching some of the personality of the film early and remembered an old post I read where it was revealed that Trent Reznor of nine Inch Nails actually did the score.  According to Reznor, the film was "…it's really fucking good. And dark!".  I concur.
I knew there was something when we saw Zuckerberg jump right into a night's coding binge after a bad date, resulting in Facemash, which promptly brings down the Harvard network.  We are stepped through on narrations of his drunken blogging of the process, with a lot of respect (and accuracy, from what I can tell) to the coding and process of site hacking and coding.  The film slides into in interesting back and forth between our timeline and the resulting lawsuits with Eduardo Saverin and the Winklevoss twins.  By the way, the twins are, indeed, just one actor, doubled on film.  And quite convincingly, I might add.  I want to watch it again to look for some editing queues in there.  The dialogue is fantastic.  As for our post movie chat, Chachi was one that pointed out some of the wit was and back and forth would be worthy of a classic Kevin Smith script.  Jesse Eisenberg delivers as the introverted programmer.  A comment by Dustin Moskovitz in anticipation of the movie proposed "At the end of the day, they cannot help but portray him as the driven, forward-thinking genius that he is."  Eisenberg felt like that socially inept programmer that you've probably met in your digital social circle, but trying so hard to be more than that.
It's still three weeks out, opening October 1, but I definitely recommend this to the internat people out there, and maybe un-internet people.