It's another year gone by, and what a year it was. But this year was a little different. As most know, I'm a wee bit of a wrestling fan, and have had great fortune to get even closer to it thanks to the work over e last five years on the Wrestling Mayhem Show. This was the year of experiences closer to professional wrestling than I'd ever imagined.
Chikara King of Trios
This holds as probably my only real vacation/road trip of the year. We planned and ventured out with Doc Remedy, Mayhem Missie, and met up with Mad Mike in Philadelphia for three nights of 3 on 3 wrestling tournament action with the indie wrestling group yo should have heard of at the legendary ECW Arena. Leading up to this weekend, we had the fortune to talk with Chikara owner Mike Quakenbush, and got to connect with him in person at the Fanclave, where we were allowed to interview some of the talent, including Christopher Daniels, local favorites Matt Cross and Johnny Gargano, and m first interview attempt with the aid of a Japanaese translator. The show was a great example on how you can have a fun PG style wrestling event that works for all ages.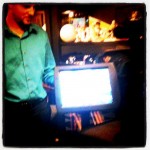 Shooting Interviews
Early this year, I began talks to help a certain announcer with his documentary. It's been slow going, but it's moved slow and steady (and let's hope for a 2011 release). But the shooting process has seen us talking with some interesting characters, including Raven, who is everything in person as you'd expect, and I had to make an ice cream run for, former Wwe, current Ring of Honor announcer, Keven Kelly, and…
Ring of Honor TV Tapings
…where we hooked up with Steve Corino. This was an experience. Just a month after my first visit (for three straight nights) I returned for a two day TV taping stint
tagging along with the talent we shipped out there along with our interview get.  I had a chance to watch the show from the crowd the first night, and from backstage (read: literally out back) and check out the HDNet production truck.  Aside from seeing Jim Cornette critique matches in shorts on the production truck monitor, it was one of those times when I realized how small my world is getting when I get a hello from someone that knows me only the second time visiting Philly backstage.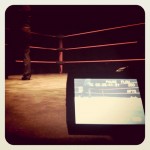 Shooting wrestling
I counted no less than 15 shows I had the chance to shoot his year.  Some really good shows.  Some not so great.  That's how it goes with indy wrestling.  But I had the chance to shoot matches with some great talents and legends, including Ted Dibiase dressing down Chest Flexor and doing the dollar bill gimmick, Ring of Honor Champion Roderick Strong, some great talent at Super Indy, including some Chikara talent, the retirement of friend of the show (and unofficial co-host) Jimmy Dimarco, and the biggest memory from the year being filming the debut match of my good friend "David Dimerra" tearing the house down just last month.
PWO Wrestlution
I've been talking with someone about helping with Pro Wrestling Ohio's production in the near future, and this was my introduction.  This was honestly the biggest indy show I've seen to date in person.  For those that don't know, this group actually is seen "nationally" on SportsTime Ohio if you have a Dish, from what I'm told.  Another great chance to see some of the production going into a television show that's not WWE or TNA.
Wrestling Mayhem Show
Yeah, it's still happening.  Interviews this year included Butterbean, who was a blast.  An hour interview with Jerry Sags from the Nasty Boys.  I managed to be called an asshole from a a presumably drunk Puppet from SpikeTV's Half Pint Brawlers.  Sara Del Rey, TNA's Codey Deaner, the daughter of legendary Gordon Solie, and all of our friends from the local wrestling scene rounded out our guests.  Tremendous.
All this and the usual WWE shows.  I got a last minute ticket in the rafters for a RAW TV, the last show at Mellon Arena.  Then Missy won tickets from KISS via Twitter that we had a chance to then see the first WWE show, a Smackdown house taping, at Console Energy Center.  Plus the very first TNA house show in Pittsburgh out in Cheswick.
This year has had the little Hulkamaniac in me has been bursting at the seams in the excitement.  Here's to 2011 and who knows what's in store.