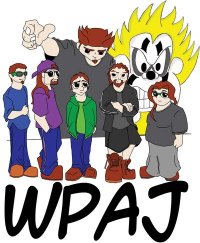 A lifetime ago, I ran a small site called WesternPAJugalos.com A cummunity site for the Juggalos (Insane Clown Posse and underground music fans) that had it's heyday. I made a lot of great friends through that venture. Hell, some girl out there has one of our logos tattooed on her arm. FOR LIFE.
I shut the doors as my interests and energies moved on. But there were always parts of it still out there. Some guys still announce the Juggalo Day at Kennywood started by the original Pittsburgh Juggalos site, but continued through WPAJ and it's predecessors. There were some Groups, Myspace pages, and the like.
Then something almost magical happened.
A few weeks ago, Facebook was upgrading, or deleting, I guess, their old Groups into the new version of Groups that's more like a chat board (a feature that confused me when launched maybe a year ago.) So here's a group with already over a hundred members gets re-invigorated, I presume by Facebook saying "hey, this thing is still over here, and you're not all on Myspace anymore". The discussion, catching up, and massive activity has been amazing! I haven't seen something like this in years! Old friends that have moved on to Erie, Mansfield, Ohio, Texas, and more, have joined together, and it's been amazing.
I learned that an old acquaintance is a Steel City Derby Demon!
I've been reminded of drunken nights where we walked around the Gathering of the Juggalos, a 4 day concert at a camp ground, then in Ohio, chanting "Peanut Butter Pancakes" and generally being nuts until the sun came up and I shared vodka with a TNA wrestler.
I've learned about some old faces I used to see at every show that have long passed on.
I've rediscovered a ton of pictures of myself from ages ago.  Including one of a sweet pyramid of Faygo bottles at the Presque Isle beach.
But it's not just the Juggalos.  I've seen the Group for the International Wrestling Cartel brim with a bit more activity and new members to their 600 deep userbase.
So what does one do now that they've tried to move these conversations to the management of a Facebook Fan Page, but the community flocks back to a new/old community module like this.  do you simple follow along?
Has this Group archiving/upgrading process caught you by surprise in any of your networks?