I've been really big on little, quirky projects lately.  I'll detail my new addiction to
Tumbler
blogs
in the near future. But for now, it's time for a new experiment.
Project: Sit on the Floor
I had to swap a deck to my computer to capture a tape, and as usual, had to crawl on the floor to unplug it.  I just sort of sat there for a minute.  And thought.  I sent out the following Tweet on a whim mid afternoon:
Stop what you're doing. Sit on the floor. Take a picture of the view. Tweet it.
That's it.
And oh man, people started to respond.
I started with myself, combining it with my #365 project.  I realize this sort of confused people, to which I apologize.  But once that was sorted out, and I passed my coworker Kyle (
@dragoon_k
) his pic I took of sitting on the floor.
@fanof48
took her time to SAFELY sit on the floor of her car.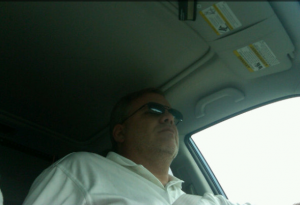 Wrestling Mayhem Show nation member
@rizziup
might be laying on the floor…
Thank you to all of you that participated in my hair brain idea today!  It was awesome!  Who cares what your coworkers thought!
What's the point?
I've worked a lot with
a client
that pushes the idea of mindfulness and taking time to yourself.  DBT Skills (That's Dialectical Behavior Therapy.  I worry it doesn't get married to the overuse letters as much as it should..)  One of the things I've learned is to make sure to take that time to breath, get some fresh air, and get away from the computer.  I've struggled with this, as many of us do, and have sought some new creative ways for the rest of us to tackle this problem.
I also have been reading the
4 Hour Work Week
audiobook and was struck by one of this comfort experiments.  He challenged you for three days consecutively to just stop what your doing at some point in the day, regardless of where you were, whether it be at the office, a restaurant, or home, and just lay down on the floor.  Maybe for just ten seconds.  Then just get up like nothing happened, and continue.  This was a fun idea I hope to take a shot at, but struck me as I sat there, seeing my office from a different perspective.
Half joking, but finding some ground in it, I started spouting some nonsense about how you start out life crawling on the ground and seeing the world at that level and perspective.  Being close to the earth.  You played with your toys on the ground.  I can remember just rolling around on the floor with my dog and having a blast laying there, maybe watching the television upside down.  We're so erect and forward minded with our goals and tasks that we need a break from all of the nonsense to get a little senseless.
And the part about tweeting it for all to see?  It's not required at all.  It's really just a way for people to see that they won't be the only "crazy one" when their office mates look at them funny.  If a mass is doing it, it becomes the norm, right?
Do you want to try it?
So join us.  I'm going to try my best to do something like this within the next week or so, and tweet my pics from that perspective.  If you would like to join me and let me know what your world looks like from that angle, be sure to tag it #projectsitonthefloor so everything comes up in Twitter, and we can see all of your responses.