I'm always brainstorming some little weird things I could do with the internet.  Last week's Project Sit on the Floor should be proof of that.
This one tracks back to two Saturdays ago as I sat there at the dining room table with Missy and Veronica chilling out after a night out for my birthday.  My mother had given me a tremendous gift with a Jumbo Smurfs coloring book and crayons as something of a gag gift since I sort of marked out at the upcoming Smurfs movie.  (odd New York City placement is forgiven for Neil Patrick Harris placement.)  I was coloring the pages, and using my handy Instagram app to post some pics.  Then the idea for a Smurf Art website came to mind as a bit of refrigerator and magnet posting of my "art".
Thanks to AJ around this week's AwesomeCast recording, Tumblr was brought up!  I remember such great sites as Justin Kownacki's Tony Danza Space Pretzel or Where's Randy Savage, which I became aware of thanks to some Mayhem Show fans.  This was a way better idea than buying a .com and installing yet another wordpress on my site that can fall by the wayside technically!  I'd been made aware of it more and more (yes, I've come across it before, but some real look at it) thanks to talking with Mulango on his comic strips that he started on the service as an original home.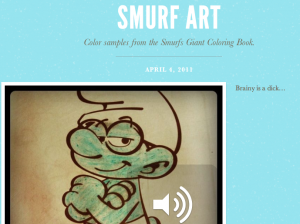 So I signed up while rendering this week's Mayhem Show and AwesomeCast, uploaded my couple of instagrams, and a site was born!  Along with that, I also signed up from another inspiration from the night.
Enter: Cue Cat
Chachi helped us further a rathole on Radio Shack by bringing up our days going around for the free bar code scanner, the Cue Cat, way back when we were in high school.  Thanks to my own pack ratism, I pulled it right off of a shelf in the studio area and everyone geeked.  A picture of AJ with said doodad, and another Tumblr we go!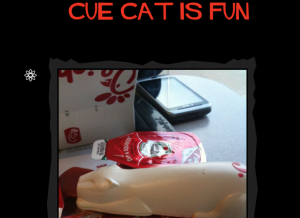 I'm trying to figure where to go with either site, if they're a passing interest, or something that could grow.  Maybe a Project Sit on the Floor Tumblog?  It's quick, easy, and I can manage new pics on the fly from an iPhone app.
For now, please feel free to visit either crazy experiment at SmurfArt.tumblr.com and CueCat.tumblr.com.