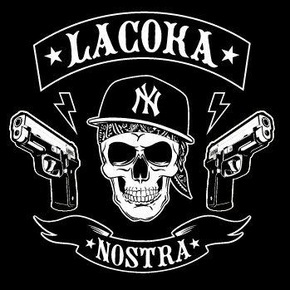 "Being a thug means never having to say your sorry" ~ Weeds.
That one thing I learned from Weeds. And when you approach A Brand You Can Trust, you need to leave your reservations at the door.  Not knowing much going into this project, I was amazed to open up the booklet to find a who's who in the hip hop scene.  Ill Bill, Slaine, Everlast, DannyBoy, DJ Lethal and Big Left round out the roster, with guest spots by Sen Dog, B-Real, Snoop Dog, and plenty of other guests that makes this a showcase of hardcore hip hop.
The album rips with guitar ridden beats and ruthless variety.  The album start with "Bloody Sunday" featuring Big Left and Sen Dog is a great kick off, "Choose Your Side" with great samples, "Bang Bang" is smooth with Snoop Dog on the track.   Then we see a few tracks with Everlast that sound…like Everlast.  "The Stain" and "Cousin of Death" are quite a departure from the rest of the album, but not an altogether unwelcome one.
In the end, La Coka Nostra is a great display of why you probably got into hip hop in the long run and is going to be on the medium rotation slot of my play list.