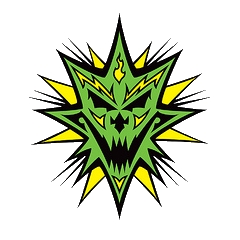 If you're an Insane Clown Posse fan, you likely became so back in the heyday of the Jokers Card saga, and all of the mystery and themes behind that.
Beats rock, "In Yo Face"
At first, "The Bone" feels like the subpar tracks you may have scoffed at over on the Tempest album, but as the song goes, it builds. "Zombie Slide" has the party song feel that makes you still want to spin "Headless Boogie" from 1995.  "To Catch a Predator" is quite possibly the next "C.P.K."   Some tracks, like "Juggalo Island" fail to deliver on anything but the "it's good to be a Juggalo" vibe I know I'm getting tired of in recent years.  But the album rounding off with "Vultures", "Vera Lee", and "Miracles" make up for it.
In the end, this album delivers on about every aspect that got you into the group and the whole "scene" in the first place.  Some interesting new beats, themes of morality and punishment, and the story telling that inspired this Juggalo to start writing.  In the long run, things are simply more melodic and better produced.  You can see all the tricks that haven't worked out since Hell's Pit applied here as the group evolved into…something else…come together.  ICP is a group that needs a focus, and nothing works as well as the original Dark Carnival concepts.