I didn't get a chance to really get a pumpkin to carve and get into the Halloween spirit with all of the work and Podcamp and such this October.  So I decided to start scouting the iPhone store for some (free) Halloween fun…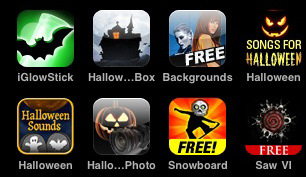 iGlowStick.It's a glow stick.  You shake it, and it turns a color with Halloween icons on it.  Right.   Well, hope there's some techno music at V-Rock's party.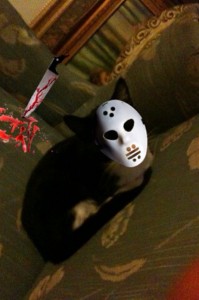 Halloween Box. That I can tell, this is the official "Halloween Story" that you can read.  And send to a friend.  And that's really it.
Top 100 Songs for Halloween. An app based around a themed playlist for Halloween tracks.  Note:  Had some issues going back to find this one.  Could have been pulled for having an in store music purchasing thing. )
Halloween Sounds. Basically what it sounds like.  Could be fun.
Halloween Photo. Picture fun is what the iPhone is about. For instance, I revealed our cat, Sampson, as the man eatinng Hell-cat he really is…
Crazy Snowboard Halloween Lite.  This is a Themed demo of a snowboarding game.  Nothing crazy.  Just themed for the holiday.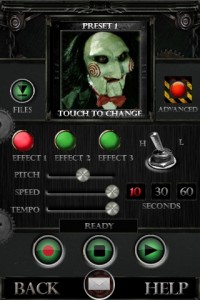 Saw VI.  It's a lot of movie promo stuff.  but the biggest find here is the "Jigsaw Your Voice" aspect.  Check out my revelation of Jigsaw's love for Bucca Di Beppo!
Halloween Hotties Backgrounds Free Edition. Pictures of sexy girls in costumes.  And some prompts to buy their video access app.  Great for knowing what's NOT going to be at your local Halloween party (unless it's an Awesome Gay Halloween party, so NBC tells me…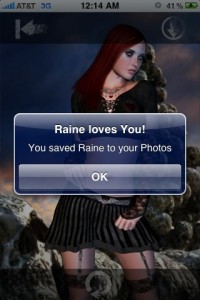 iSpinIT Halloween Edition Free Edition. Sort of like the above app.  But they're 3D sexy girls you can spin.  And save for background.  I suppose for all the guys who loved Tomb Raiders….polygons…
So.  Another Halloween aspect that can go digital.  I wonder if there will be anything good for Thanksgiving before we're buried in elf bowling and snow globe  apps…