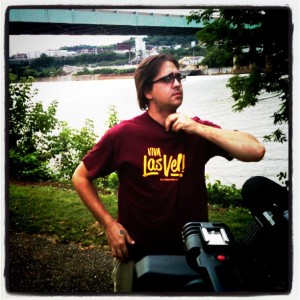 More or less, I've lived in and around Pittsburgh for a good 10 years, getting our first apartment in Mt. Lebanon in late 2003. I came to this town because I always loved what I saw visiting my Grandparents in Moon, and what they showed me of the city. It stuck.
But with everything going on with attempting at having a career, maybe I spent one too many nights coming home and watching cartoons instead of getting out doors.
Only recently during my recent stint with shooting Unsung, and other various projects, have I been thrust into my town. We've had to get creative on where we shoot around town, and where we need to go to cover what's going on. There's so much I haven't seen around here in my own backyard.  On the release of Unsung episode 10 this week, I thought it was time to look back.
So what have I learned?
1. Bike! I've heard so much from my compatriot on the AwesomeCast Rob that biking is the **** and this is a good place to do it. I've seen so many show up to the Cafe and to events on bikes, or walk in with their bike seat. I've always been weary since I always thought I'd have to coinhabit roads with cars, and people that don't seem to follow the bike rules. But there are so many trails that maybe that's not an issue. The old bikes are acquired and I'm ready to get them restored to get out there!
2. Use the Rivers. They're not just cool to look at, or a reason for bridges, or for jumping into once a year when the year turns. I don't need to buy a boat (but who wouldn't want to buy a boat. Or a monkey. But I digress). Kayak Pittsburgh seems to be the thing to do. Missy's already been on an outing with her work, and I'm thinking about doing the same.
3. Stay away, Duckie's. I don't like them. They offensively quack at you and ruin shoots downtown for me. I bet they're ruining scenes from Dark Knight Rises right now! But if I wasn't so personally offended by them, the concept of a land and aquatic tour of the city sounds fantastic. I've been on a "duck" a long time ago in a region I can't recall, but remember it being a lot of fun. And not ruining any videographer's day….
4. Climb. Not physically. But I'm sure that's fun too. Get up there and look at the city at a different level. Get some perspective. I've been fortunate enough to "climb" several of the buildings downtown for interview meetings and clients, and find myself peaking over the shoulder of who I'm speaking with to scope out the view. I'm sure I've been caught, but I can't help it! I often go to Mt. Washington, often have, when I think I need a minute in my life to take it all in.
5. Have someone to experience it with.  I've been so fortunate to be able to discover all of this with my best friend.  We get to get out of our dark geek caves at home and the bright (oh so very bright to our computer screen experienced eyes) outdoors of this town.
6. People are not phased by cameras.  Not like they should.  Like when they're shouting at someone from right beside out camera in PPG Plaza.  Nope.  No problem.  Maybe it's a city thing.  The funny one was on a dock on the Allegheny when I heard the classic iPhone camera noise taking a picture of our shoot.