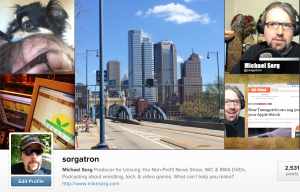 Short form video is one of the new ways to get people's attention.  And Instagram is one of the biggest platforms.  How do you adapt to the 15 second platform for your purposes?  We look at some pro wrestlings and technology channels doing just that.
Are you following any interesting uses of Instagram or other short form video?  Please share them!
From this show:
Follow Basic Sorganomics on Youtube, Spreaker, iTunes, Stitcher or TalkShoe, or subscribe to the Sorgatron Media Master FeedonStitcher and iTunes.