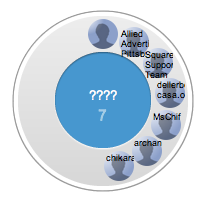 Hi.  I know you friended me a while ago (or within the last week if we're talking Google+), and I haven't quite approved you yet.
Please don't take it personally.
I mean, it is kind of weird sometimes.  Maybe I really do know you.  I talk to you all the time.  You're @coolguy89 and we both love wrestling.  But when you drop me the friends list, I don't know who Pumpernickel Smith is…
There are clues.  Sometimes I can decipher from the mutual friends lists.  I can defer that I know you from Podcamp, or as one of my old classmates from high school.  That's easy enough.  But I don't know where to put you in my list.  Or Circle.  Or friend Octagon.
(I should patent Friend Octagon)
Here's something else that's not helping.  I don't know what your cat looks like.  Well.  I do now.  But I don't know it's you're cat.  Because I'm still trying to figure out who you are.  Great vista of the Pittsburgh skyline, though.  But I don't think I've been to your place on Mt. Washington.  Nice kids.  But have they been to the tweetup?
So, you know.  This is all a great social experiment and building with these tools is fantastic.  But sometimes it's the first impression, or first identification, that matters in simply starting the conversation.
How are you dealing with mystery friends?