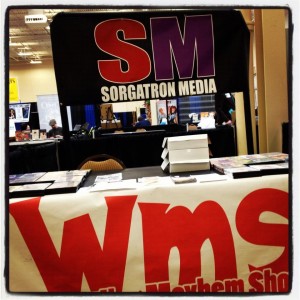 This year, we returned to Pittsburgh Comicon representing Sorgatron Media with a new game plan.  No longer did we have Mangtoons to team up with since it's proprietor headed out to New Jersey for the next step in his career.  But this year, we had something more.  Something to actually sell.  So we upgraded from the lowly Artist Alley to Small Press booths selling IWC and RWA DVDs that we've been producing and distributing lately.
As usual, it's an educational experience…
Stan Lee doesn't pack a Con.  I was shocked on how many people A. didn't know the yearly Comic Con was that weekend and B. didn't pack the Monroeville Convention Center with word of Stan Lee.  Attending the Baltimore Comic Con, you could barely move.  You needed to buy a ticket to get a glimpse at Stan Lee.
Less to see.  I don't know if I'm jaded from my first year on the Con circuit, but there wasn't much to get excited about.  I brought a camera, but had no interest in filming much of anything.  Those I was interested in talking with we already talked with last year, or already feature on other shows on our network.  The best thing I saw all weekend was the World's Strongest Redneck who came to our booth and bent a nail.  Amazing.  The people were there, and the community
World Gets Smaller.  Again.  As I run around and hit these wrestling shows and Cons, I'm starting to feel the world shrinkage.  It was great to see the Dork Trek and Torres vs Zombies guys I met up at Baltimore just a few booths down from our setup.  Seeing all of the comic book crew like Jon Towers, Scott Hedlund, and Dan Greenwald just bouncing around and hanging out was cool as always.  I love I was able to introduce them to the World's Strongest Redneck.  Even some local wrestlers stopped by the booth.
We Upgraded.  Or Did We?  We made a quick decision last year that we were not going to be doing the Artist Alley this year.  It made sense.  We had stuff to sell.  We weren't doing art.  Sure.  But when I did swing back and realized how much more room they got next to last year, and prime draw location by Stan Lee's area, it made me wonder if we made the right move.  Either way, I'm sure an earlier placement that wasn't in a corner would have helped, but you never know.  It's that economics of the tables and making it back we stil have to learn.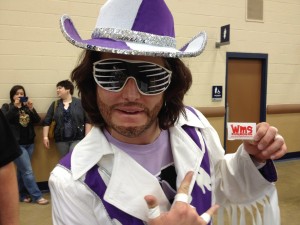 It's nice to sell something.  We did the promotional thing for Pittsburgh and Baltimore last year, and don't really know how much we ended up getting form it.  No way to gauge it.  It's just great to get out and talk to the people about wrestling, or web comic.  But it's nice to have something that is a physical something to sell.  We did a lot of great work reaching out for our shows and services, as well as preach the pro wrestling groups in their back yard.  And we were able to see some immediate results as RWA had a show that Saturday night we filmed and one of the guys that came by talked to me.  One fan at a time!
Altogether, I can't see not going back next year.  Even if the whole experience makes me shake my head from the lack of social media efforts to perhaps a lack of caring.  (I know people who couldn't find anyone at the front door to pay for a ticket to come in. )  But it's THE Comic Con of the area, and it's our home base.
What's next?  We are targeting the Steel City Con, which will be great with the wrestling guests it already has to attract our kind of audience right off the bat.  We are also looking at the logistics of doing Sci-Fi in the Valley in Edensburgh (by Johnstown).  They are having some local wrestling out that way, and lets face it, there's wrestling on SyFy these days, right?