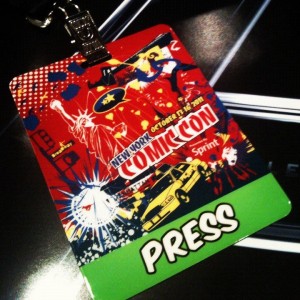 This year, we returned to the New York Comic Con after a two year absence.  And with Press passes!  Chachi and I embarked on a Megabus to cover as much of the Con as possible.  And were surprised at a few things.
MegaBus! is sweet.  I've traveled to New York City via car, bigger car, Amtrak, and Greyhound.  This was, by far, the least stressful way to do it.  Seven and a half hours on a bus that has wifi, for the most part, rest stops that made sense.  Our trip up was in the front of the double decker, though we didn't see much view since we watched movies on my laptop and iPad.  The plentiful outlets made passing the time easy.  I was even able to prepare some stuff for the coming days' On the way back, we got a sweet table to share with Chilla and Carla.  The bus driver on the way back was hilarious.  I didn't even care about dealing with the delays we had to endure.  And the whole round trip for two of us was $65 total.
When I went to Greyhound, it was the worst experience ever.  It was crowded, stunk, and every layover we took, I was scared to miss my bus out.  I was  misdirected twice during the trip to the wrong bus line, both in Pittsburgh and New York Greyhound stations.  Not to mention having to stop in every podunk town from here to Philly.   Amtrack may have them beat on comfort, but gets beat by cost and adding about two more hours to the trip.  Both of these routes take you across to Philadelphia then up to New York.  Megabus took us to State College, our only real stop, a rest stop this side of Jersey, and bam.  You're there.
Wear Comfortable Shoes  Since our last visit in 2009, the New York Comic Con has grown.  A LOT.  We walked the entire floor, which is three times the size as last time, on the press/VIP day, and still had trouble finding little things we wanted to revisit.  It took me two days to find the Ninja Turtles pictures I really dug, and everything was sold out by that time.  If you just want to get to everything on the floor, a four day pass is a must, it seems.
Play your games on day 1.  Before the general populance gets there.  It gets crazy.  Crazy.  I saw a mark in the Mass Effect 3 line that stated that it was a two hour wait from that point.  And lines were much longer in many casees.  Chachi seemed to get into Dead Rising 2 pretty easily, as well as Grand Theft Auto 3 for the iPad. I thought day 4 would be the day for me to pick up some of that action.  Nope.  Saturday is insane.  It was impossible to move on the floor with my camera bag in tow.  Sunday was just the same.  Only shorter.  Because it's kid's day!  (though it was fantastic to see kids get excited about comics)
Standing in lines is not worth it.  I understand people's excitement.  But I can't see paying the money you do for that event, and spending the majority of time in line.  Whether it be to get a glimpse of the Avengers, or some time with Street Fighter X Tekken.  Maybe it's my patience.  Maybe it's my unexcitement about being first to see a clip or play a game.  But it doesn't excite me.
But some things still excite me.  It's the little things, really, that I geek out about.  It's randomly running into Dot Com, who I can easily coax into giving me a liner for the Wrestling Mayhem Show.  Or the creative director of Voltron knowing who MC Frontalot is, and getting me excited about a cartoon I haven't watched in years coming back.  Or back at Baltimore when we met the video game artists that had DJ Cutman spinning 8-bit tunes across the aisle from our booth all weekend.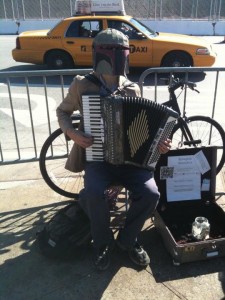 Use your Press Pass.  Ok.  This doesn't apply to everyone, but for our efforts it does.  There wasn't much explanation if you haven't had a press pass at one of these events before.  We ended up on a email list that led to some interviews with Ubi Soft, Rockstar, Voltron, and South Park.  But for the most part, I didn't know how to utilize mine.  I found out afterwards that you completely don't need to stand in line getting in on the busy days thanks to Andy Inhatko's post show (who I had the pleasure of meeting at the show)  Then there's when I heard Chachi was hanging by the GTA 3 mobile space, and the rep brought him over the velvet rope and answered any and all questions he had.  Apparently I have trouble forgetting I'm not a simple attendee at these things…
We need a B Team.   There was a lot of stuff.  And holy hell were we exhausted.  Next year, we hope to get a few more passes and have another pair of people to help cover the event.  We also learned I need to prep my interviewee a bit more.  Chachi is fantastic for when I throw him in a situation, but may be lacking a little bit of tack I may have developed over five years of WMS.  It's also important to make sure you have people that know the subject.  I don't want to have that all around host that just bullshits an interview that could be something special.  We tried to do this by having Chachi handle the video games, I handled the more tech interviews, and we defaulted on him otherwise.  But I would have loved to have someone like the great Dan Greenwald, who made our coverage of the Pittsburgh Comicon with his indie industry knowledge and friends.  We would have twice the videos from this one if we had him on the case this time around.
Rethink my tech.  I took my bigger camera, the Panasonic AG-HVX200, which is heavy.  No tripod, since we were on the bus.  Man, that needs to change.  I found the Panasonics, my model, and the one I shoot wrestling with, the Panasonic DVX-100b, were popular amongst the film crews across the con.  I'd love to get something smaller and more mobile, especially for when the floor gets crazy on the weekend.  I'm hoping something like the iPhone 4S, which is in my purchasing future, and a unit like the OWLE Bubo, which would enhance the audio and lense on an already fantastic video solution.
And of course all of this is to save my shoulder from the stress of carrying my equipment all week.
Shooting with iPads is peculiar.  I saw several people taking pictures with their iPad 2.  It's weird and awkward to the rest of us.  Just saying.
Altogether, it was a fantastic experience.  Thanks again to Mad Mike for his hospitality and helping us establish a home base for the craziness over the weekend!