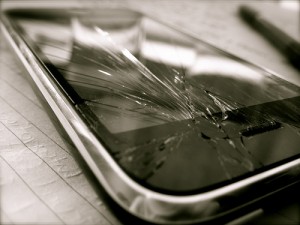 This past year was a hallmark year for my interactions with electronic devices.  As I came to realization in a conversation with Rob on New Year's Eve at the BEV Lounge,
Camera Kick – This was not my fault.  Mostly.  I was working a gig at a certain wrestling promotion that I normally didn't work with an odd sized ring that was throwing off my mojo a little bit.  The ringside was small with the fans very close and no barricade.  A tag team match was going on when one guy walks down the apron from his tag corner, grabs the top rope, and swings his feet up into the head of his opponent prone in the corner.  Sadly, it was a little too wild of a kick.  The plastic front of the camera (a Canon prosumer model, if I recall) when flying into the air, to the awes of the crowd.  Well, that ended the ringside shooting for the evening.  Good thing my employer was insured.
Silent Ninja's laptop – I take the blame on this one. We were attending a PPV event at Fox and Hound and my brother brought his weeks old laptop.  The sweet one with the touch screen and swivel monitor.  He spun the screen to show me something and wack!  My Dr. Pepper was in the opposite side of his rotation, spilling an entire Dr. Pepper onto his keyboard.  Thank you Best Buy protection plan!  (and the only positivity I'll throw Geek Squad).
iPhone bath – The lesson here, don't put your phone within 10 feet of the bath.  If the tech gods will find a way for it to fall in impossible ways into the elements.  This was an interesting exercise in finding emergency appointment time at an Apple Store 7 hours from home in Manhattan to buy a replacement.
Soundboard damage – We know this one from the Wrestling Mayhem Show.  It's hard to teach an old dog new tricks.  Like not to pee in the corner over the studio that trickles through the wood floor and destroys my brand new equipment.  The second time, I bought the $10 2 year protection that covered spill damage.
So there you go.  If you want to be sure that you have a happy hardware year, head the lessons:
Avoid haphazard wrestlers
Beware new technology with crazy swivel technology in a restaurant setting
Tech can defy physics to find water.  Sort of like flies to a bug zapper.
Toilet train your pets.  I mean in the toilet.  With the flusher.