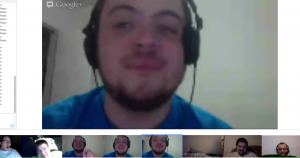 I was pleased to be a part of an impromptu panel we did to start off Day 2 of Podcamp Pittsburgh 7.  I wanted to expand on a couple of things mentioned up there.
I talked a little bit about one of the coolest parts of my "Digital Toolbox", the army we've been so fortunate to cultivate on the Wrestling Mayhem Show.
This show was always a team effort, but a lot of the core work always left me feeling like a solo act to keep it together.  We always had people there to shape the show and new faces thanks to the always social DJLunchbox.  But it was my sleepless editing and cultivating to figure out what we could to do to reach out.
Today, things are different.  Over the years, the crew grew.  Fans became cohosts.  And some became core parts of the show's growth.
One example with "Wrestlefan".  A 19 year old current student at the San Antonio University who grew into the show.  Regardless of what we threw at him, he's still there, and building new relationships for the show with the wrestling scene in Texas, putting out new ideas on the site, and getting together tasks that help with the show.  Bobby helps with the show notes so I don't have to write them at 3 AM when I get to it after the show and have to remember back, and guys like Mad Mike, who's been taken away by a job still joins us via YouTube.
But the biggest thing is applying this army to social media.  One idea Mad Mike brought up was making sure we live tweet during the wrestling shows.  We already all joined on a Hangout to talk during RAW monday nights, which resulted in commentary on Twitter once in a while, but no real push.  Over the last several weeks, without asking now, someone is covering TNA on Thursdays, Smackdown on Fridays, and PPVs on Sundays when they happen.  I was surprised, and didn't know this to that very morning of the QA, that the guys got together and did a Hangout during an experimental live iPPV the night before!
The greatest feeling is knowing that the show is bigger than Will and myself.  It's so great to see this community, between these guys tied directly to the show, and those ever growing on Twitter and Facebook, able to evolve on it's own into something amazing.