You know, there's a trend that I stumbled upon. There was a slight inspiration from @iamjellybean, and I guess @stokemonkey, but in the past month, we've seen the rise of @BijouMayhem and @MrSammySam.  Our dog and cat, respectively.
Bijou's account came as I waited for something, someday.  I just recall sitting in a car, registering a new account, and there it was.  It made sense, since the chat room explodes any time the dog hops on our couch during our live broadcasts of the Wrestling Mayhem Show, and it's a new outlet to have fun with.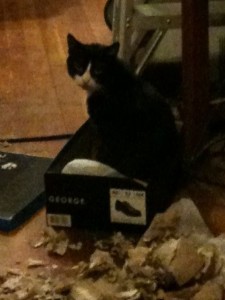 Sampson came up from Missy.  All I know is, I received a random direct message from "Brock Sampson" and had fun with it since.
I know.  It's sappy, and maybe a little unbalanced.  But what are pets good for if you can't have fun with them.  Consider it our own personal "LOLCATZ" outlet.   Heck, WeFollow had a decent list of others doing the same.
But people are interested?  As I write this, there are 40 and 24 followers.  That means there are as many as 30 people (bots factored) that want to know what my pets are thinking.  And now, twitpicing…
Now who are the crazy ones….