There's a nice string of blogs that have gone up the last couple weeks on Podcamp Pittburgh's official website.  You should drop by and read them.  You know.  After you register!  Here's my contribution to the cause…
It's been a long time since that very first Podcamp Pittsburgh at Pittsburgh Filmmakers.  I still remember that rainy day and collecting in the auditorium for the first time to see what this was all about.  At the time, I was starving for information on this new world of Podcasting and what people were doing with it.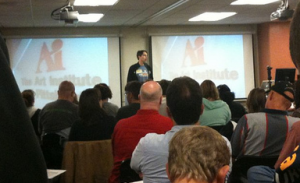 For the next four years, we were moved to the Art Institute of Pittsburgh, which was fantastic since it was a familiar building from my days there.  Centrally located downtown, and an environment full of creative things lining the hallways.  There was also a keen inability to NOT get stopped in a conversation.  But I suppose that's a bit of the problem.  We saw growth every year since Podcamp's inception in our fair 'burgh.  Classes were packed with the likes of Burgh Baby's (Michelle is her people name) and her Blogging 101 session, instigating spill over rooms using our own streaming setup via our friends at VivoLive.  Last year, we expanded to spread our classes through two floors to get some more breathing room.  But even then, things can probably only expand so far.
Earlier this week, I had the fortune to tour our new digs at Point Park University.  More specifically, the University Center.  Oddly, I wasn't completely new to this place.  Years ago I might have wandered into this building for some project that required looking through newspaper cells back when it was a Carnegie Library branch.
To say I was taken back by walking in is an understatement.  For those that may have felt claustrophobic in our past locations, this will be a welcome change.  The mail hall that welcomes you is three stories high.  Our Hub is now going to be a proper auditorium holding much more than our AIP version, and bringing us full circle from that first Filmmakers auditorium.  It sounds that we will have access to most of the building, which is just full of nooks and crannies.  Well furnished nooks and crannies that are well suited for impromptu "sessions" to bring about the next "bacn" level of inspiration.  Many of the rooms we'll be holding proper sessions (or improper if Wrestling Mayhem Show decides to have another session) are rather unique from each other.  Which should come across as apposed to our past session videos looking like that may have almost all been held in the same room.  The chairs look to be much comfier, so I more than expect to see a few nappers in the screening room after a night of 724s the night before.
This year, our venue really feels like Podcamp Pittsburgh is a"all grown up" in what should be a great presentation to first comers and veterans alike.  And don't worry.  It's only about  three blocks away from our last location!