In 2010, I was talked into doing something incredibly stupid to start the New Year.  I came back for 2011.  And 2012.
And never looked back.
Well a little bit.  I was questioning this year's Polar Plunge off the Mon Wharf on New Year's Day.  It would be my fourth.  I was a little sick over the holidays and worried a little too much.  But after seeing Uncle Crappy remind me of my stance in his first call out blog post, I had no question about being all in…
"Once you do this, the rest of the year is easy."
It was a small, motley crew.  My contribution was convincing Frank aKa @fuzzwad from our InsertCointoBegin.com venture, and grand accordianer.
It was great, and the most intimidating snow I've seen going in, even if it wasn't the actual coldest year out.
But I went a little off…
Seems in the craziness, I forgot one of the first rules.  Jump far.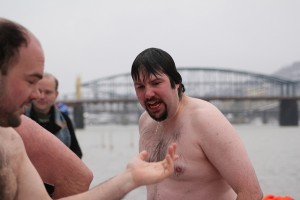 It went well enough.  I hopped in, clamored out without elbowing Frank out of the way in my haste.  Held my hands up in celebration, and noticed my finger was bleeding.  Then someone pointed out my leg.  Aw man.  So I said, "hey, gonna go find those friendly paramedics to patch myself up" and took a hike.  I was feeling "warm" and had no problem heading down without more than a towel over my shoulders.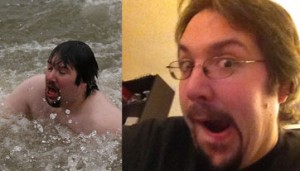 Got patched up and came back, and took a look at what I expected to be a large bruise on my hip.  Oh man, was that wrong. Went BACK to the medics to see if I could get a little larger bandaid, and was pretty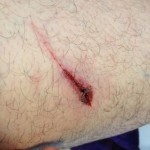 much told to peroxide the hell out of it.  There were two.  So I had my second opinion.  j
Either way.  Aside from changing a bandage and keeping an eye on that one, it went pretty well.  I got that "one big thing" out of the way, and as long as this cut doesn't kill me, I'm golden to rock 2013 again.