From the Sorgatron Media Creators Newsletter List for April 17, 2015.  You can Subscribe to it here! You can Read the rest of this newsletter here!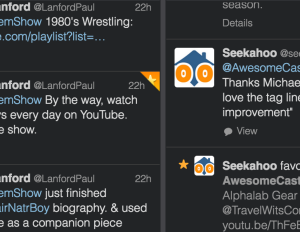 Through the week, I find myself becoming a one way broadcaster.  As I edit and release podcasts through the week, I worry that I'm pushing video and content out, but not talking enough.  It's easy to get into this trap as you want to tell every what you are doing.
That's the point, right?
But that's not the point of Social Media.
When you're working with your accounts through the week, make sure to step back a moment.  Respond to anyone who's replied to your content.  It goes a long way.  Even if you find one person talking about what you're interest is for you or your brand/project, engage with them.
Just like saying hello to a new person at a party, you never know what door it may open.
What do you want me to cover in future newsletters?  Let me know here!
Below, I've added a new feature!  Check out our Short Video of the Week!  We're doing a lot of "tinier" content online, and I want to feature something there!  Hope you enjoy it!
Here's what we have this week: Read the rest of this newsletter here!