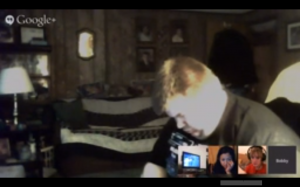 A huge congratulations to the team at InsertCointoBegin.com!  Over the weekend, they teamed up with Extra Life to raise well over $1100 for Children's Miracle Network.
This has been one of the cool things with the projects I've been involved with.  ICTB was a brain storm by Chachi to do a video game site that we have been working to get some traction.   It's been great to see this crew come together for two years now for this program, and with other projects and articles.
While the crew doesn't have access to a modest studio like I do for my podcasting and streaming needs, the guys did incorporate something we've used a bit for our shows and over on Wrestling Mayhem Show, Google Hangouts.   It was nice to check out the stream to see how they were doing in the early hours, and when I returned from my day's event shoot at 3 AM the next morning.   We use streams (in our case via Wirecast and Justin.tv) for Chachi Plays for Kids and it's a great way for us to get the "telethon" style to the event and try to drum up more donations.
At least Bobby on the crew also used a little bit of Twitch.tv, a video game streaming service, to get some of his actual gaming out there on a different platform.
If you want to look back at the stream from the gameathon, check it out on their post, and it's not too late to donate!