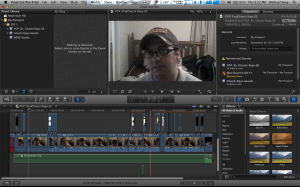 I hadn't seen fit to take the $300 dive into Final Cut Pro X just yet, but have wanted to for a bit.  Once the trial was available, I wanted to apply it to this best real world, low risk situations I could to see if it was all it was cracked up to be.
So, I opened up a thread on Google Plus to drop my thoughts as I work with it.  I've editing my weekly editions of AwesomeCast, Wrestling Mayhem Show, and Chachi Says to begin with.  While I've seen some hiccups and things I have to adapt, this new way of doing things really seems like an improvement to my process.  Already, the audio work has eliminated parts of the process as well as the whole use of Soundtrack Pro in my weekly editing process.  The way I can compartmentalize things I used to edit all at once, and always went out of sorts, will help speed things up.
I've been able to run the program on both my late 2009 Macbook Pro and late 2007 iMac to varied results.  I'm not doing anything really complex yet, but I feel the slug as it background renders clips.  But the process knocks a good bit off of editing Chachi Says.  I'm able to drop the clip and get right to it as it converts instead of using Compressor to ProRes his Kodak Zi6 footage in advance.
The BIGGEST hangup is still the organization.  As I've been told, if you're coming from iMovie, you get it.  Or maybe don't pay attention to it.  After working in an environment that was big on organization for a good 6 years, organization is key, and I'm still trying to wrap my head around where everything needs to go, and how do I decide what to backup.  Because it seems like if you render a file in the background and drop the render, it's broken.
The biggest help in this has been some great open discussions with Pixel Corps.  They have a few episodes of Macbreak Studio Live on their youtube page that are tremendous to get answers to the most common questions.
I have a few more first hand impressions, and will continue to add to, this thread on Google Plus.
Let me know you're thoughts on Final Cut Pro X, and let me know if you have any questions you need answered before taking the dive as well..