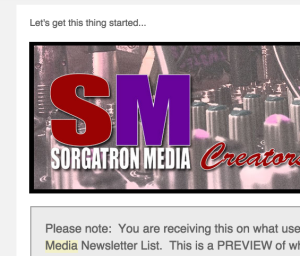 I've been managing a newsletter for a while, but find it's time to do a spin off. As I battle with the idea of email marketing, I get into why they're splitting, what I hope to accomplish, and more.
Are you doing a newsletter? What's your strategy?
MP3 Download
Follow
Basic Sorganomics
 on
Youtube
, Spreaker, 
iTunes
, Stitcher or 
TalkShoe
, or subscribe to the 
Sorgatron Media Master Feed
 on 
iTunes
 or 
Stitcher
.