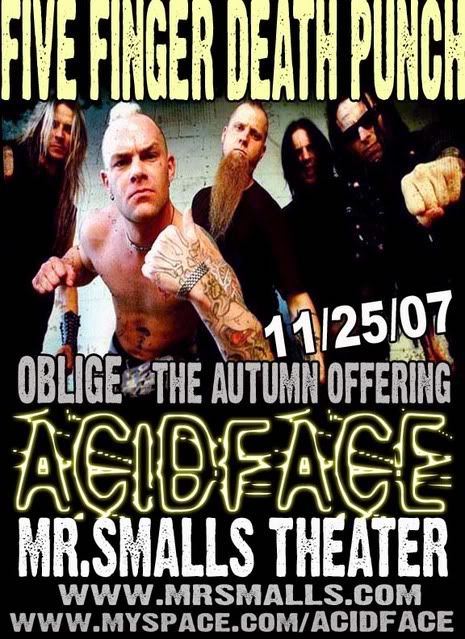 Well, what better way to cap off a rather icky weekend then some fucking metal. Thanks to the Doc (Dr. Espling), I had the chance to go to the 5 Finger Death Punch show tonight at Mr. Smalls. I was able to sit in on his interview with singer Ivan Moody (formerly of Motograter) and drummer Jeremy Spencer ( formerly of W.A.S.P.). They were great guys, and I got to learn a bit about them. Yes, that name is from Kill Bill. And yes, this new moving "Bled" Ivan is involved in is going to kick ass.
The night kicked off, after a long wait, with AcidFace. Doc said he didn't expect much from this group from the sound of their Myspace Page. I had spotted this guy with a Dr. Dre shirt, cheetah headband, and interestingly high hairstyle, and was surprised to see he was the lead singer of this group. Fantastic. And their sound was tight as hell, though leaning towards the more scream-heavy than I prefer. But damn, were the guitars excellent!
Following were The Autumn Offering and Oblige. Neither were very much my taste, but enough to get my head bobbing. Oblige didn't have much of an energy from the crowd until they started covering some Pantera at the end of their set. Again, not my taste, but worth a look.
And finally, Finger Death Punch came out, and the crowd got moving. I don't know if it was just in comparison with the rest of the show, but these guys proved to show the other groups how it is done. They had amazing energy and just the right set to get people moving the whole time. But..6 songs? They did four, maybe five songs, did the fake out walk off, then came back and played two more. Apparently, these guys are fans of the "leave them wanting more" philosophy Doc and I were talking about earlier in the night.
Fantastic night, either way. I was introduced to some really good groups, one local, one national, that I'll be keeping an eye on.