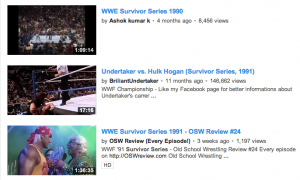 The internet did it for them.
Imagine a situation where you have this vast catalog at your disposal.  Imagine you have someone else provide that content on a service, like YouTube, without you having to lift a finger, and reap the monetary benefit.
I ran an experiment lately.  I noticed that you could find just about anything for the World Wrestling Entertainment on YouTube.  So I wondered.  They all have ads.  There are so many.   Are they not checking on their content?
I had a collection of wrestling shows and features I had digitized from my VHS collection.  Some were late 80's Coliseum Home Video releases (mostly compilations like Best of Saturday Night Main Event and Most Unusual Matches) and some were turn of the century PPVs recorded off air.  I was curious.  I had also thrown in some TNA, WCW, and Ring of Honor I had on hand just for good measure.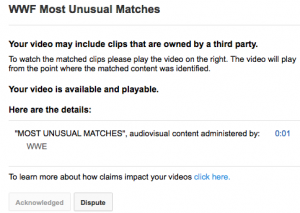 In no time I was getting pounded with content IDs.  WWE had certainly been involved with Google.  And highly thorough about it.  I could tell by the codes that the old, obscure VHS specials I had uploaded were precisely identified.  PPVs were identified similarly, with various hits on the music used in the newer shows.
TNA, who I had problems with before, had a similar response.  Previously, I had played with including footage as we talked about wrestling shows in the Wrestling Mayhem Show.   This led to episodes being knocked off YouTube or banned in Germany.  Most came up "TNA Wrestling" and stayed online.  One had a co-copyright with Viacom.  This one is blocked worldwide.  Odd since Viacom likely doesn't actually own any of TNA, but broadcasts it on it's own SpikeTV.   Viacom was the offender when I had the issues before at a time when they disputed the Daily Show and other properties being on YouTube and outright ripped them down at first site in the early days of the ID system.
Ring of Honor doesn't care about the internet.  Shows posted had dings and actually led to major strikes against my account.  The guys who need the most exposure (they are a distant #3).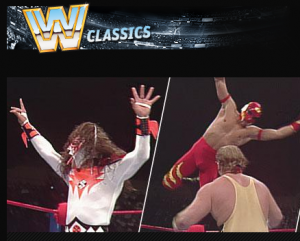 But the revelation occurred.  WWE is easily making a killing off of YouTube with these content matched ads.  While they try to serve content through their WWE Classics On Demand on cable, they seem to have given up on a pay service online, giving out free matches on their web site and on their YouTube account on a regular basis.   All supported by advertisements, of course.   I wonder what tools they have on their end as "Content ID Match Customers" with Youtube.  Not only are they allowing the audience to crowd source putting content online, maybe they can use some of those stats as a barometer for DVD releases like the recent War Games and Money in the Bank DVDs as to what to compile or include.