A couple of weeks ago, my banner of Sorgatron Media ventured into it's first foray in representing at a Comic Con.  We partnered with our fellow creative mind, Mulango of Mangtoons, and Dan of Comic Book Pitt with a plan.  We decided to take a shot at the cheaper Artist Alley table for some visibility for our shows like Wrestling Mayhem Show, AwesomeCast, and Dan's show as well as for Mulango's comic strips, Carbon Copy Squared and Buy Shack.
We wanted the presence, and we wanted content.  Dan and I received press passes and planned to cover the show in a joint efforts of our two web sites.  I needed a comic book expert to host, and he could use some video skills in the fold.  We managed to score fourteen interviews with all sorts of comic book artists and writers over the weekend (which may mean about 15 videos contributed to both our sites).  Dan was amazing in organizing the meet ups and knowing when to bother them and not to.  He was also very good on his feet, as you can see in our launch video for the series, when the power goes out two ours from the end of day three, he turns it into an observation about paper comics vs digital.  Amazing.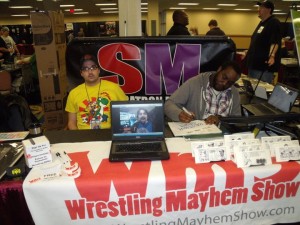 Is This a Flea Market? That's the sort of feeling I get from something like the Steel City Con in the past when I've attended, and I got a little bit of it here.  Early Friday morning I walked the floor to get a look at what's out there for our shoots later, and was fearful to get close to some booths.  I step up to just take a peak at something that catches my eye to be bombarded by the sales and deals of the weekend in a desperate plea.  We talked on AwesomeCast 47 about this at more length.  It was a big turn off, and you probably didn't get the business you seek.  Especially since I had a press pass and mentioned I'm just scouting right now.
Interactivity.  Much like when you're doing any other marketing, you need a call to action.  Since we were not going to sell anything, and, in fact, be giving away business cards, stickers, raffle prizes, and scores of prints of comic strips, we had a little more than displays and prices of some, yet less since we didn't have the greatest in large art displays..  Mulango realed people in with some signs for his new buysHACK comic, including "Best Buy Sucks!" "Do you still shop at Radio Shack" "Tell me your story" to go along with his user generated idea for the comic.  I, on the other hand, knew a giant banner that said "wrestling" on it would get another sort of subset of con visitors, and both sets intermingled.  We already have ideas to make our presence even bigger because…
Size matters. Looking at the included picture, it should be revealed that we sort of started taking over our open neighboring tables that weren't sold off.  We needed more room (and ended up getting it, by luck) But this isn't the way to do it.  Granted, we had some sweet placement in the back of the event near Bob Hall and the kid from The Walking Dead, so our oversized banners, signs, and video playback had a lot of chance to get noticed.  For the next venture, we have plans to go bigger and better.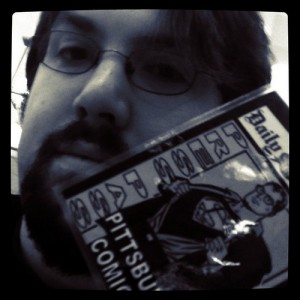 It's a tight and awesome community…but not… Filming the interviews over the weekend, I had a first hand look at the true nature of the show, and the artists that are the true lifeblood.  What they see in the con, why they've come for 5, 10, 15 years…and why maybe it's not so great anymore.  The comic book world is certainly in some form of transition with the move to digital for some, and greater accessibility for artists to reach out to fans and get noticed.  No longstanding community is going to be perfect, and without anyone talking up the glory days, but I'm glad to be a small part of this one from an "outsider's" (not a comic creator.  Heck, not being much of a drawer).
What's next? This was the trial run for us to test things, see if this was a good angle for getting the word out there for our respective projects to get readers, viewers, listeners, and build a community into something really cool.  We have a few select cons on the posible list, but are almost certain we will be returning in a hear to Pittsburgh's.
Oh, and editing all of those great interviews!  Check our initial Wrap up video here!