Tonight was the big Twiztid show at Mr Smalls, and the last of the trifecta of excellent shows for us in Pittsburgh over the last month (considering Kingspade/hed pe and Blaze tours that just came through)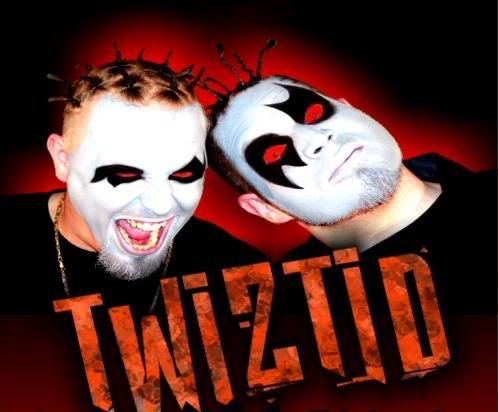 Rolled in after some hairy driving with the freezing rain, tagging along with Chachi and Rick (aka 8-bit and Playa 2 of the N.E.S. Crew, of course) We showed up about a quarter till. Now my ticket says doors at 6. Show at 7. We get in about 7, with the line still wrapped around the building. And we just missed both of the openers, and friends of ours, in Legally Insane and Basick Sickness. Fucking blew. But I talked to Basick and Gimpy, and heard the shows went real well. I hope someone got some video of that shit.
So the first group I got to see was Project Born. Nothing real special that I could tell, but not bad either. Then, of course, we started getting treated to DJ Clay spinning some Psychopathic classics and getting the crowd riled up between sets. This is way better than the massive downtime we usually get at Psychopathic shows like this. Then Bizarre (of D12 and Celebrity Fit Club fame) came out and fucking rocked his shit with King Gordy in tow as hype. While it was rather disturbing for two very large fat men to be running around without their shirts on, it was still a hard hitting set. Then we had Boondox, and I haven't seen a bad set from him yet. Twiztid came up to end the night. They had some mechanical zombies rising out of the fog across the stage as the show went on. Pretty sweet.
This had to be one of the most entertaining shows off the stage as well. We had a pretty good crew going on in the back. From the debates of Penguins and Browns between Chachi and Jeff, to the debate of why Boondox does/doesn't suck I had with Chachi. (I contend I like it over him because I'm from the out there country, of course. Fucking "townie") And just the interesting assortment of people that were around us that I can't even get into.
It was a great night to hang with the Juggalos in one of the most packed houses I've seen at Mr Smalls for a good while (maybe outside of any Kottonmouth Kings show). Caught up with some ninjas I don't get to see very often, with some standing out at the moment of Havok, "Feces", and JuggaloJohn. And of course I got some good time in the pit to get some of this week's frustrations out tonight. These shows never come around often enough for me. So sitting back with some Faygo (it been a while for that too) and taking in this limited tour CD they had on sale tonight.
Night ninjas!