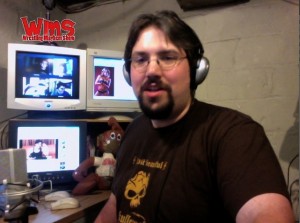 I was very excited to get a chance to mix up the studio last weekend, and just love the feel of producing with the new setup.  Things were becoming piled on as we expanded our tech down in the studio.  I had a chance to reposition everything so it's within reach with much less awkwardness.
< of Chemistry Communications joined us this week via Rob's contact and fast became a member of my "please come back" list.  Mitch had a lot to say about the stories we brought up for the week, included a great anecdote about Facebook Places.  Altogether, it was a really fun show and great chemistry all night.
Wrestling Mayhem Show 233: Midgets Fighting Cripples
This is where I really got a chance to play with the new setup.  We had Hotwheelz join us to talk about his wrestling groups show this past weekend, so we had a full house on the Skype Beta video conference line.  But thanks to the new setup, it was really easy to decide, midshow, to bring in Rizz to help talk about IWC's show fromt he weekend before since I was a little too close to the action to give a legit review.  I also could easily toss some video and imagery up on screen to make things interesting in the background and switch on the fly.  This is getting much closer to my dream setup.
Music Funtime Show 16: Kingdom Extreme
Finally, I had a chance to catch up with Josh Drespling from Kingdom Extreme.  I worked a great deal with Josh for Deface Marketing, stuff for Western PA Juggalos, Empire Extreme mag, and he was instrumental in helping get my album out.  It was a great talk about his direction into the Christian music scene and how surprising it is.  This show is at the point where I'm hoping to revamp it a little bit, and maybe bring in some local personalities to freshen it up.  We'll see where it goes.