From the Sorgatron Media Newsletter from October 4, 2012.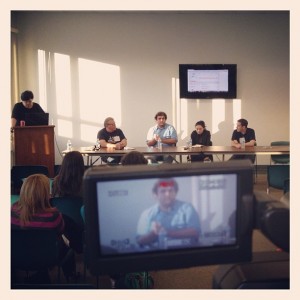 Wednesday evening, I had the fortune to record another Evening with Podcamp for Podcamp Pittsburgh.  This one was a panel by news people in the Pittsburgh area involved in social media including Kim Lyons and Mila Sanina of the Pittsburgh Post-Gazette, Scott Beveridge of the Observer-Reporter, Scott Harbaugh of WPXI, and Bobby Cherry of the Sewickly Herald.  The video will be up by early next week, but in the meantime, it's interesting to look at some of the discussions that happened over the evening.
The obvious topic to kick things off was the Gateway Hostage Situation from a few weeks ago and the implications of social media.  As some may know, the perpetrator was on Facebook during the events.  A situation that had many of the news media questioning what they could do with it.  Others live tweeted everything they could hear over the ear piece in the case of Scott Harbaugh, who wasn't going to be reporting much weather on his shift during this situation.
As we continue to get used to these tools at our disposal in Twitter and Facebook, and anything else that comes along, we're going to see interesting use cases, for good and bad, where an event like this happens, and the first thing we reach for, when it used to be a TV of phone, is a Tweet or Facebook post.  Even Scott Beveridge on the panel had looked at the large number of stories that involved either of these services in some manor of their reporting.
For more on this great conversation, keep an eye on PodcampPittsburgh.com for this, and other videos.
~~~~~
And the video in question?