Recently posted on Sorgatron Media
Mulango Akpo-Esambe of Mangtoons.com takes us on a tour of the Toonseum in Downtown Pittsburgh, PA! We checkout the comics, people, and upcoming events during the Blogger Blast in early February and have a chance to talk with Executive Director of Toonseum, Joe Wos, and the special guest for the evening, Doug Bradley. Better known to some as "Pinhead" of the classic Hellraiser series!

Stay tuned in the coming week for an extended release of our conversation with Doug Bradley about the Toonseum, what he's been working on, Soccor, and the "new" Hellraiser flick right here on SorgatronMedia.com!
This was the first in what I hope to be a series of videos covering what's going on in the area that doesn't quite fit in with the shows we've been doing thus far. Sort of like when we visited the Freak Show guys for Stuff a Bus.
I had the fortune to be able to get Mulango last minute, who fit in as someone who produces his own web comic, and is a student of animation (he's officially a 3D Animator by trade). This Blogger Blast event (that took place all the way back on February 2) was a pretty novel event. Walking in, the patrons were handed a small package that was a little different. A tiney, bulky envelope that made me scratch my head. Turns out, the little envelope had, as Joe Wos explained during the presentation, a Toonseum flash drive, business card, and several free passes for the Toonseum for givaways on our respective blogs.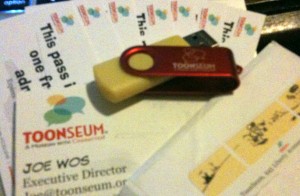 It was a great event to check the place out.  I'm a big proponent of the idea that you have to show people what they're getting into.  I might have reservations about just heading down to check out someplace like the Toonseum.  Now, after going down and talking with people involved in it, and seeing the space, I'm a bit more excited, and willing to keep tabs on, the stuff going on down there.  Hopefully, with the bloggers and videos like the one I'm posting, people will have a chance to explore it digitally and be more likely to come in.  This is something I like to promote with all of those session videos from Podcamp Pittsburgh.
All together, I'm pretty happy with the results. Here's looking to cover bigger events in the near future.
What events should we be covering in this fashion?