Months ago, I was checking out the MacHeist 3 bundle. I'd heard about these software packages for charity deals, but never had the chance to catch it in progress. So I kept an ear out, and was impressed with the lineup, including World of Goo, Caveman Rally, and several productivity apps I'd love to give a try to. One of the cornerstones of working with "down the line" was BoinxTV. I bought this video production tool in this bundle despite only having my iMac, which was far removed from my studio setup, so it wouldn't be of much use. But this past December, I found myself buying a brand new MackBook Pro, and finally, decided to dive in.
I'd made a sort of New Year's resolution to dive headlong into video for my productions. Wrestling Mayhem Show had long been an "audio first" (though under a tight production time) podcast, with the video experiments pretty much extending only to the live audience with BlogTV, then Ustream.  So I set out to make this happen.
First, we did a backtrack and grabbed the records from Ustream of the last several episodes.  Especially the December episodes that had a lot in studio people, including the IWC Champion, Jimmy Demarco, new IWC owner, Chuck Roberts, and the return of Doc Remedy and Mayhem Missie for the Christmas edition.  These are always the best shows.  While I couldn't convert the Ustream FLVs, Blip.tv handled them just fine.  I only couldn't put them to itunes without an m4v.  But putting them to Youtube via Blip, then use the former's "Download MP4" and back that over to Blip.  I'm glad I didn't need to continue this…
I tested BoinxTV a few nights with my Sony DCR-TRV280 Digital8 and Sony DCR-TRV27 MiniDV cameras I had on hand pre- 3 chip upgrade.  BoinxTV offers a chance for 3 cameras to cooperate, including the Macbook's iSight camera.  Both cameras worked fine via firewire, but not USB streaming, which both advertise.  Apparently not a compatible feature with Macs.  I tested the video for a long record, since I was looking to use it for a two hour show, if not more.  A few issues cropped up.
Get the format down – I was fine at first, then had a horrendous skip.  I tracked it down to my cameras not being appropreately set by default to NTSC 4:3 on the devices.  No problem.
CPU is pushed.  This is a Core 2 Duo 2.66 Mhz, and iStat reports an almost maxed out load.  I make sure to crank the fans via SMC Fan Control
Crashes!  I was experimenting with the program, Ustream, and maybe another browser or so, and experienced the worse Mac crashes I've seen yet that didn't involve foreign languages (once a month on work's PowerMac's, I swear).  I'm yet to find a way to recover crashed recordings like I could potentially do in something like Audacity.
There was a rather confusing tutorial on how to stream your video on something like Ustream.  Confusing, because it mentioned on software, yet linked another for screen capture.  Finally, CamTwist became the software of choice.  And the crashes?  We slimmed our programs to BoinxTV, CamTwist, and Firefox running Ustream to send out the signal to the live folks.  That's it!  I don't even check chat via the dashboard in Ustream anymore.  I touch the computer for switching, and leave it be.
Finally, with WMS 202, we ventured where no Sorgatron had gone before.  I worked on some of the stock video units.  I colored things for the show's red and black color scheme.  We scheduled Johnny Gargano, a great upcoming star from Cleveland, OH who just showed up on a DragonGate USA PPV that very weekend, who was adept at webcams and Skype, so we set him up as our very first remote video interview.  Now, I was stuck with my one Firewire, so I have my iSight on me, and a camera with no one in the studio.  In lieu of finding some sort of video input adapter for my laptop, I simply pointed the camera at the skype video monitor in the studio.  Like a charm.  I've thrown another Skype install on another computer to split the load of the calls coming in, and I didn't even have to do the interview alone, as Mad Mike joined me from New York City.  Things were lined up so that the Skype caller set right in to a two-up view for one on one conversations.  I've played with other graphics setups to throw up images, we attempted a music video, and live motion for in between segments.
Basically, I've had to switch my typical "live to tape"  2+ hour show, and segment it.  We save out the video during the music breaks.  Make our Skype and other quick setups for each segment, and have to edit the whole thing together, and output the audio, at the end of the night.  The first few weeks, it was trying to work in the switching work on top of the show management I had already shouldered from the show's typical duties.  Chat, sound board, Skype calls, video output, Talkshoe output, redundant Audacity audio recordings, and maybe more.  So the first show or two, I may have forgotten a record button or two, so video viewers may have had a longer video loop.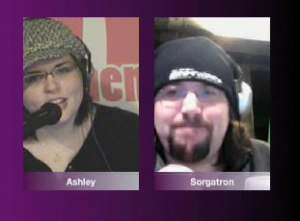 Now, I'm four WMS and two Ashley After Hours episodes in, and things are getting smoother.  The biggest killer, and something I'm still working on, is just what to do with all of this.  Each 2 hour WMS seems to weigh in at 40-50 GB, half that for any of the Ashley After Hours shows, of course.  I'm halfway through a 500 GB external drive.  It's time for a backup scheme!  And the editing.  Whatever format I have this at, it seems to be 640×480 instead of Final Cut's native NTSC format.  Add to that, that little trick where I could send audio to Soundtrack to edit, and retain the line doesn't work.  I'm presuming I typically don't do this with as long of files as I've had (20-50 mins per segment).  After some very late Tuesday nights, I've narrowed it down, figured out the change speed rate for the audio to match up, and getting quicker weekly.
Four weeks in, I know have a video podcast that is available on Blip, YouTube, Roku, Boxee, and bringing in an additional 80, and climbing, viewers to the hundreds already listening, or in chat.  We also have the second show, just started, that has already almost reached similar numbers.  Multiple times greater than the audio version, which I consider a bit of an anomaly.