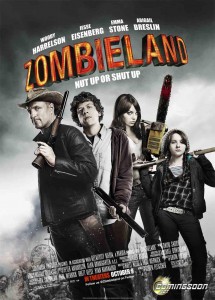 It's been a mixed bag, and a lot of scheduling issues since I had a chance to get a chance to partake in these screeners, but when Zombieland came across my email, I had to jump on it.  This was a movie that you didn't know what to expect.  It had zombies, Woody Harrelson being crazy, and a really interesting trailer.  So much to go right.  So much that could go horribly wrong.  (like one of the lead actors' previous Adventureland.  Bleh).
So we headed out to the ancient Showcase North up on McKnight Rd.  I grew up going to the Robinson iteration in my younger days with my grandparents, and you can tell these places are from the '80's.
One of the promising factors for me was the slow motion action shots.  I'm a fan of interesting cinematography, and this movie was never visually boring.  Every zombie was a dripping mess and some of the most viceral I've seen in a bit.  Columbus' (no one shares 'real' names as to not get attached) rules are integrated throughout the film in creative ways.  Rather than a gruesome, dark display of Zombie infestation, this film was fun in a Shaun of the Dead with a bigger budget, and American bluntness.  I once read that there was a Dead Rising movie in the works.  This movie started to make me wonder if this was a spin off result of that development.  Or maybe a director/writer/producer may have played a butt load of that game (and part of the end sequence seems to drive that home.)
My one complaint?  See that hot chick with the chainsaw?  Not in the movie.  First Rule of Zombie Flicks:  Don't promise me a chainsaw and not deliver.
Other questions raised:  So is Jesse Eisenberg type cast into the geeky kid in movies involving amusement parks athat get's the hot chick?  First Twilight girl, now this.  And why couldn't they have done a movie this cool with Kennywood.
If you get a chance, swing by Zombieland.com.  Missy has been on this all night playing around, Twittering, and making fantastic ecards like this one she sent me (I think anyone can see this).