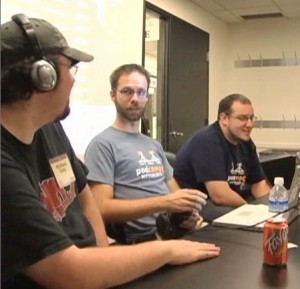 Chachi Says 2: Phone Wars
This week, I think Chachi learned the value of crowd sourcing as he asked which phone he should upgrade to.  This was quasi outdated due to filming 3 of these at a time.  But that's what my little text commentary is for…
AwesomeCast 16: Support Some (fake) Baristas
It was great to get Justin Kownacki on the show.  We learned a couple of things with this.  Justin contributed some good stuff, including one of our stories, and we learned that Baltimore may have worse internet than Russia.  We were pleased that heard that since being on this show, The Baristas made it well past their Kickstarter goal!

Wrestling Mayhem Show 236: Working up a Black Sweat
We've had more titles coming from our pre show lately.  This was another fun WMS.  DJLunchbox and WrestleFan are a good core to the show.
Music Funtime Show 19: Lohio
I had the fortune to attend Liquid Sundays last weekend.  It was a fun time, and I got some great footage.  Unfortunately, I only had the chance to talk to one of the three groups.   This also marks our move to using a little more video on this show.
AwesomeCast 17: Podcamp Pittsburgh 5 LIVE!
Our first live show!  Like, in person, and in front of an audience!  I drug a small version of our setup into
Podcamp Pittsburgh
and recorded after telling people how I did it in the session before for Video Podcasting 201.  The concept went over well! (I was a little worried, going in…)  We had a good room, and tried to cycle through some guests through the show.  Some firsts, including a live performance of Chachi Says, with scores of people filming it for me to edit later.  It was random, and had a lot of involvement.  This is the type of show I truely enjoy.  I've had in the back of my little brain to do some live editions of our shows, but I never knew if anyone would ever come out for them.  The feedback to this show has been tremendous, and has me thinking about that again.  Hell, Rob, my regular co-host on here, loved it so much, he may venture over to the studio on a periodic basis!