I was ecstatic to find out there was a Jonathan Coulton show c0ming to my town.  So we devised a troupe of Silent Ninja, Chachi, V-Ron, and myself and head down to the Rex Theater for a night of nerd-centric, folky music.   I had some preconceptions going into the night.  Due to my experience going to MC Chris, and at last year's Con on the Cob where my group, CRAP, performed, I had very low expectations for the crowd and the potential opening bands in the "geek" culture.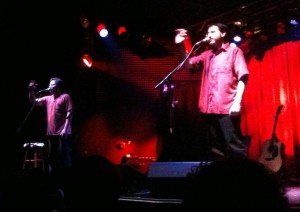 First of all, the venue was a step up.  I've attended shows at the Rex since they had seats permanantly installed.  Mosh pits in the small area in front of the stage were certainly uncomfortable.  Shows since they removed were better, but the place suffered from over heated crowds and poor sound from the bands on stage themselves.  There certainly has been an effort since I've last visited that the place didn't feel as low rent in the post.  Both acts that night thanked the venue profusely on their sound and hospitality on stage.  A solid endorsement.
Back to that opening band. Paul and Storm had me at the tossing of panties from the crowd during their opening song, "Opening Band".  It seems that they regularly open for Jonathan Coulton, and I'm told, used to headline with Coulton supporting them, years ago.  It was a perfect fit of two guys that had a great shtick of comedy and harmony (and one guitar).  Nun Fights, Grandma's Christmas Dinner (spoiler, it's the dog), a song about conception, and the guy who invented chicken nuggets.  All of this ending with an interactive pirate song that took about 20 minutes or so to complete.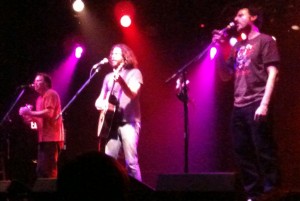 Jonathan Coulton was up after a short intermission.  I'm always amazed at a live performer that hits their songs, and replicates them with just himself and a guitar, with such perfection.  After a few tunes, Paul and Storm joined the fun on backup vocals/instruments and some impromptu stand up comedy, it seems.  Coulton even had the most amazing "one man band" instrument I'd ever seen for "Mr. Fancy Pants".  The whole night was a riot.  I never expected to laugh my ass off so much to a geek show like this.  The Pittsburgh audience was rabid for the show, filling the place in what I believe was a solid 300 strong.  I was happy to see the merch booth swamped in a way that I may have only seen at an ICP show to support these grassroots groups.