From the Sorgatron Media Creators Newsletter List for April 24, 2015.  You can Subscribe to it here! You can Read the rest of this newsletter here!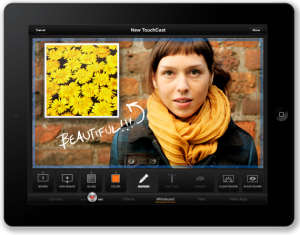 As I discussed on Friday's Basic Sorganomics, I had the chance to visitZee Poerio at local      to see what they were doing in this middle school AV Club to make video.
The one thing that surprises me is this TouchCast app.  And if you have an iPad you should check this out.
The students showed me on the iPad, hooked up to a tripod, how easy it is to drop into a chrome key, replacing your green screen background with anything you want.
This program includes something called "Vapps" that add functionality like showing a live web page, Twitter stream, Google Mapps, interactive tests, and more.
And that interactive side is pretty amazing.  You can bring up a live poll in the middle of your video.  This only works on their platform on TouchCast.com, but still functional.
The students were also being trained on this for an upcoming visit to a TechEd conference where they hope to conduct interviews on the spot.
This program coupled with a minimal hardware like the PadCaster Zee and the students use, some audio hardware to capture better sound, and a nice tripod, you're in business to cover events, conferences, and more.
I could even see someone using this to start their own video show or video blog with a LOT of bells and whistles and outputting it to Youtube to find an audience.
Download it!  It's FREE.  The best kind of price.  And it's SUPER powerful.
What do you want me to cover in future newsletters?  Let me know here!
Here's what we have this week: Read the rest of this newsletter here!