UPDATE:  I've taken down the "donations" in light of Google's interesting "no sharing" policy we're seeing with the latest batch of Google Glass'ers.  But this isn't over yet….
I've been offered a bit of a proposition, it seems.  I was sitting down for a Wheeling Nailers game with my buddy Saturday night when I received an @ reply on my phone.  Always interested at my flashy device, I found this…

While there's plenty of debate on the validity of these responses, and even some ridiculous entries being disqualified after the fact, I did get one, and needed to prepare myself.  I mean, this was a chance to get my hands on something game changing long before the masses.  And I do love tinkering with new, bleeding edge, technology.
Right?
Sure, I can't really afford the $1500 on a struggling empire builder's income.
After a chat with Norm and Chachi on AwesomeCast this week, I was convinced I had to give this method the good old college try, though.
The Deal:  Donate to help me aquire a Google Glass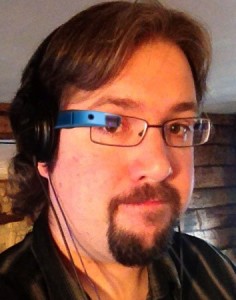 What's in it for Me?  A few things can be done.
Are you local to Pittsburgh?  If you donate $50 or more, I will schedule a lunch, coffee, etc meeting with you to try it out too.  Maybe several.  Anyone putting that much green on this becomes a partner in this venture.  It beats dropping $1500 or waiting until who knows when, right? 
Not local?  Let us entertain you.  We're going to push this thing.  Once we get our hands on Google Glass, I'm going to employ everyone interested to help test this thing out in every situation that doesn't mean imminent danger for the device or the wearer.We'll put this thing through it's paces and report back right here at Sorgatron.com in blogs, videos,
What if we don't reach the goal?
If it's close enough I can cover the gap, we're going to do this thing.   

If we're too short, I will refund everyone's donation. 
How can you trust me?  You're protected under Paypal's dispute service.  I'd be screwed.
What do I want to do with it?
Hangouts:  Where can we reach out from?  We already do Hangouts from our phone from airports, football games, and more with our Mayhem RAW Hangouts.  Where could we go with this thing?  What sort of presentation perspectives can we use this for?  Live feed from Podcamp?
Lifecasting?  iJustine had a 

giant

 camera on a hat with a companion laptop.  What can we do with this?  Walk around and get live responses right into your eye.  Could be boring.  Could be interesting.
Get kicked out.  How will the general public react?  What happens when we walk into a bar?  Will the police pull me over?
Represent Pittsburgh.  As always!  How many of these things could be floating around town?  We could be part of the first!
Can we do this?  Who knows?  Do you want to help?  Who knows! Help sponsor!
Any questions, leave a comment or email me (mikesorg@gmail.com) and help me hash this out!