I've had a green screen for a while. Well, it's a couple of long green fabrics from Walmart. We first used them way back in 2007 for a fun Apple-parody for WWE and TNA wrestling.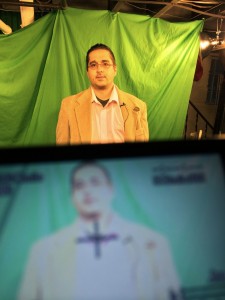 The more recent use was for some sparse episodes of Unsung where the weather would keep us from our preferred on location shoots.   The more we got to do this, the more I wanted a permanent location for my green screen.  Every time we had to get one of these together, there was a period of lighting, organizing over top of my podcasting setup, and crossing my fingers.   With a locked down location, I can have lights set in a more stable setup and just setup a camera, turn the lights on, and go.
I've used it three times in the last week.
The key is to get the background as smooth as possible.  And have enough lights to light the subject in front along with the screen in the back independently.  I've updated to using a TON of work lights (readily available in the hardware section).
First go was again for Unsung.  We planned to visit the Giant Rubber Duck in hopes of doing our usual stand ups.   But the rain kept us away.   This was the first true test.   I'm astonished at how clean the green screen was with the keyer in Final Cut Pro X with little work.  A few hot and dark spots were easily taken care of by marking out some of the green screen.  I remember having to take hours perfecting this on Conduit for Final Cut Pro 5.  (nodes were my worst nightmare).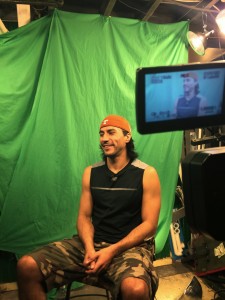 The second was a shoot with Paul London for our upcoming documentary for another former WWE wrestler, Zach Gowen.  We didn't have a location, and this was one of the last we had to get in to finish shooting.  We also rolled in a quick shoot for Sunday's Prime Wrestling Wrestlution 6 iPPV.  Talking with their producer, it was an easy, one button key to get the piece together.
Now one spot that the jury may still be out on is whether I can shoot iPhone 5S footage on the green screen.  I had a chance with the most recent Lootcrate coming in Wednesday.  I had some issues with the green reflecting on the top of the box, making it disappear before I opened it.  That's why there's this odd start.  As you can see, the key is a little bit blocky.  It could be partly because A. the positioning of the box wasn't as ideal as how I usually setup for the shoots discussed above, or B. the iPhone's video, while labeled as 1080 HD, still has enough artifacting on that little lens and compression issues that I can't get as clean of a key off of it.
Warrants more testing, of course.
You can check out the results…