From the Sorgatron Media Creators Newsletter List for September 29, 2016.  You can Subscribe to it here or read the archive.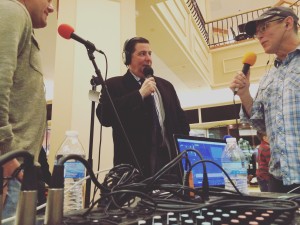 This week, AwesomeCast is hitting the road to join some fellow casters with the Millvale Podcrawl.  This is an event put together by our friends at The River's Edge in celebration of International Podcast Day.
A live Podcast?  Why would you want to attend that?  It seems almost counter intuitive at first. We create these Podcasts that we intend to talk to the entire world, but then have these Podcast events in our back yards. But with many of the shows showcased, Ya Jagoff, Drinking Partners, and our host's run of shows, are fairly localized.
If you have that luck that you have a local fan base, these shows can be a nice chance to build your audience stronger.  Remember, if you even have a small handful of people listening to their show, that's some dedication. Maybe they're already friends.  Maybe they stumbled on you. It means something to be able to connect.  Or you can look at it as a way to find a new audience.  Even our friend Buzzy Torek from Epicast Network recently talked about holding events with their personalities and comedians that would trick people into attending Podcast recordings live.  YaJagoff (pictured with Mayor Bill Peduto) does a great job of getting out there on Light Up Night with a big banner at Fifth Avenue Place and special events with fans and sponsors for their Summer Porch Tour.  It's a little more than just booking a venue and hoping your listeners show up sometimes.
But you also have to be careful.  Sometimes a live podcast can be disruptive to your audience.  If you are trying to do an episode of your show, it may come off with an entirely different vibe, or may not be the same audio quality.  Some shows lean into it and completely change the format.  So judge your audience and take your shots lightly.  And make sure that audio holds up above all else!
How will we fair?  What cone of beer related tech will AwesomeCast discuss as Doug Derda of Should I Drink That joins our panel?  Drop in and find out!