The last few years, I've had a great deal of trouble doing the holiday thing.  I've neglected Halloween activities.  Thankgiving became swallowed by the ever expanding Christmas season, and combinations of family drama, being overworked, and just having a rough couple of years, the times have been more of a chore to survive through than something to celebrate to me.  We didn't even bother with a tree last year, and have skipped it several times.  So this year, we're making a plan.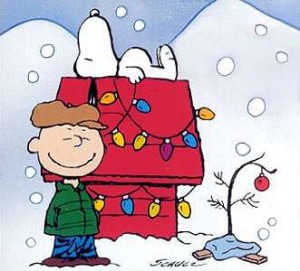 Pre-Christmas Avoidance. I've been so good!  I ran into holiday blasts days after Halloween when I mistakenly entered a yule tide WalMart.  After about a month of hibernating away from the stores, I'm good to go, and not the least bit annoyed as I usually am by now.
Resurrect that tree. The tree goes up before the 1st!  Even if I don't get those decoratinos on there just yet, it has to go up and be staring christmas joy into my face.
Christmas Movies. It's started with a chance flipping to The Santa Clause on ABC Family, inspiring a search that found A Nightmare Before Christmas, A Christmas Story, Elf Bowling, and Santa Claus Conquers the Martians.  I'm sure Hulu will also have a smattering of holiday specials, and the cable channels will be good for some filler.  I still need to find a source to watch the old classic, and sometimes scary, claymation Christmas specials of my youth.
Christmas Music. Not your conventional stuff.  My Xmas iPhone playlist includes such hits as Santa Killaz, Podsafe Christmas Song, and Stabbin' Santa Clause.  It's a start.
Christmas Participation.  We made a return to the Sorg hosting activities with our recent Thanksgiving dinner, and it sounds like our new roommate will make sure there's some goodness in the near future.