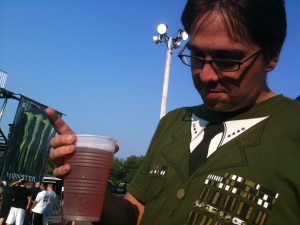 It's the day to celebrate everyone's favorite Twitter protagonist, @chachisays of ChachiSays.com as he celebrates his birthday. As my longtime friend, I thought I'd inform everyone on how they can show their appreciation.
No Pants Status: This is a concept that Chachi has championed to the online people for ages. So take some time. Loose your pants. Sit and watch the news, a movie, or do your freelance work. And Twitter your verdict. It could change your life…
Watch some Chachi: We all know that Chachi bears no resemblance to Scott Baio, but we can still celebrate by watching his name sake in action with some Happy Days or Joanie Loves Chachi…or just go watch  this instead.
Find out what Chachi Says:  Go.  Read his blog.  Follow him on Twitter.  It may also change your life.  But less so than the pants thing…
Listen to Chachi Appreciation Night: Several of us are planning to celebrate Chachi Appreciation Night, as we did the highly successful Kane Appreciation Night several months ago, we're bring a Chachi to the studio and going to have some fun.  Who knows what'll happen.  So join us live in the Ustream room, Talkshoe, or make sure to download episode 185.  Check it all at WrestlingMayhemShow.com.