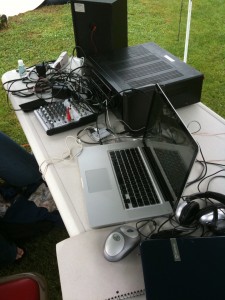 I was recently volunteered by my lovely wife. (more adjectives mean less sarcasm.) It was a graduation party sort of deal a good deal down Rt. 88 in Mongahela, PA, right by the river. We were the cheap option. Somehow, I came up in conversation since cobbling together a DJ gig a few Halloweens ago.
So I sought out to dig out all of my equipment Friday night.  I knew it was there.  I just hoped it all still worked.  Here's the rundown:
JVC Home Theater Unit – abtained free of charge when offloaded by my manager at work.
A pair of small, but mighty enough to power a backyard bash Pioneer speakers – abtained free of charge when offloaded by my boss at work.
Eurotrack 4-channel board – Leftover from when I updated to 8 channels for my Podcasts.
Two laptops of some reliabilitiy.  (My Macbook Pro and Missy's newer Gateway PC.
Your music library – for me, this is 55 GB of over 16,000 songs on an external drive
Wifi internet – for additional requests
It seemed simple enough.  The only thing I was worried about was the song tagging, and the newness of some requests.  Sadly, or maybe for the better, my musical tastes for the last five years have gone into the underground side of music.  So I'm not up on the latest Eminem, New Boyz, or slew of American Idol acts or bubble gum country that have been out in recent years.
First issue: Song tagging. There were tracks requested I knew I should have had on hand.  But, thanks to my massive, long running, MP3 collection, I may have ripped some of these tracks ten years ago when CDDB wasn't as prevelant to keep the names straight as it is today.  Unfortunately, I didn't have time to put the entire collection through before the gig, but I highly recommend Pollux for re-tagging all of your stuff.  I've never bothered with years or genres as I should have, and even if this just corrects that on a track, it's helpful, and worth the $10 I paid for a year's license.  (side note: this is the service that was brought down by Leo Laporte's recommendation a few months back when it was free)
Second issue: Recent music catalogue. This was a solution that was worked on on the fly.  I had this inkling that Youtube would be a great resource, thanks to Vevo and the rest of the music being uploaded there all of the time.  While I managed the playlist and the tech, Missy was on her laptop, taking requests, and when we found something not in my library, I sent her on a search hunt to "verify" Youtube videos.  You know, to make sure the video quality was alright, and to make sure it wasn't some kid doing karaoke to Lady Gaga.  I would then note the user and track, and load the video, on mute, in the background while it was on deck to play next.  We would often group these tracks together, then back to an itunes playlist for tracks we had.  This was made possible solely from our hosts' generous internet speed (4/2 according to Speedtest.net).
By the end of the night, people were amazed by the tracks we "had" and how professional and varied things were (we had people that wanted everything from country to rap to hair band rock to "something from the 50's")  While I don't recommend this for when you want to go into business professionally for yourself, this was an interesting exercise for those who get roped in as the one that knows how to use those "computer things" when a family member needs some help on the entertainment front.
A side note: I also had a brain storm to work this into some visual presentation.  What could keep a person from using this Youtube DJ method and hook up a display or projector for the spectators?
Have any fun, cobbled together tech stories to share?