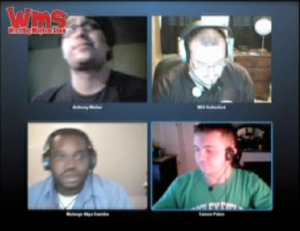 As I've been developing my podcasting studio from the spare parts I come across, as I've discussed in the past.  I've also been envious of the Skypasaurus from the TWIT studio, and sought to build my own the hard way (ie. with now money).  I was an inkling away from endeavoring on this path.  Then the Skype Beta was announced.
With this beta, a lot of what I do in my podcasts has changed.  The best example, of course, has been with my Wrestling Mayhem Show.  Since the beta was released, and thanks to all of the participants being Windows PC based (the 5 way video conferencing only works with PC based Beta participants at this time) our show has become a bit more visually interesting.  Much of my camera switching that was once handled by my BoinxTV dealings has been replaced by a rather smooth interface within Skype.  By clicking on corresponding video feeds, I'm able to bring the focus onto the prime talker for a segment or discussion, and it even lines up nicely when I bring up the two up for when I'm talking directly to someone.
How can you use this?  The main considerations would be recording this "mass Skype feed" along with your own, on site video.  I've played with something called Vodburner to records our Mac friends not participating in this beta to edit in later until I find a solution, but that method has been less than successful come weeks.  If you simply want something to push to something like Ustream or BlogTV, using a screen grabber product similar to CamTwist (what I use on the Mac) that captures the video might be a great way to capture it quick and dirty.  Use your imagination, and I'm sure there's plenty of ways to work this into a video production setup that doesn't require a ridiculously priced Tricaster.
To see the video in action, you can check out any of the last few episodes of Wrestling Mayhem Show (we started using this Beta on episode 219).